I've been wanting to address depression here again, I mean really dive into what it is for me, and what things about it totally suck, and how I just don't think it's all bad. What? Depression getting a bad rap? Well, yeah.
Certainly, there are things about my depression that are really detrimental to me and my family. Crabby, bitchy, touchy, angry, tired, sleepy, eaty...none of these are good. The medication takes an edge off the cranky part, but now I am really starting to understand and see my own need for talk therapy. My dear friend has been so encouraging since I acknowledged this melancholy in me, and announced for all the interwebs to see. She has reached out to me about her own experience, without taking away the truth of my own walk.
Depression can't define me, but it is part of my make up. Honestly, I feel much more fueled creatively when my chest is full of that angsty-emotiony stuff, than when I am feeling calm inside. I enjoy those cool, calm, refreshing times, but part of me
likes
the gray. It's when I can feel everything. I can see happiness, recognize it with certainty, I can know what and whom I love most, I can see life's layers. I can write.
Is it good to fall asleep on the couch so often? Nope. Is it good to feel disgust at myself and others who look like me? Nuh-uh. If I focus on depression under the microscope of illness, then I need to be cured. Bacteria or virus or chemical imbalances washed from me. If it were possible to attack depression,
major depression
is how my chart reads, then wouldn't it be better to simply check in to North Memorial, get my IV, and be done with it? If it is that my synapses are not completing, that a medicine could bridge and heal, like a new knee or hip, then I WOULD HAVE MADE IT HAPPEN. If it were just a matter of medicating, dude, I'd be a-walkin' on sunshine every stinkin' day.
It's not gone because I am not gone. I am here, and some days are good and life is doable, and some days are a challenge and mucky. Maybe, when I stop looking for the easy fix, I will realize that I am indeed not broken. I'm a shapeshifter is all. I need my sensitivities. I need my depth and wealth of feeling. I need my trials just as much as I need my celebrations and joys. They are interdependent.
I wanted to find some images from others that would show you how I feel. This one made me want to leap into the computer and touch her back, feel the energy in that room, see the butterflies moving.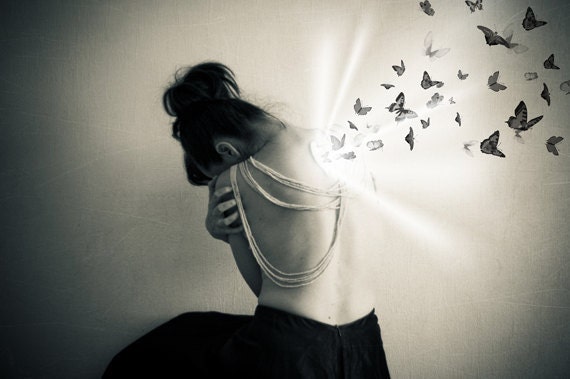 The exit point of the light and butterflies is where someone once told me we hold our sorrow in our back. Opposite to our heart.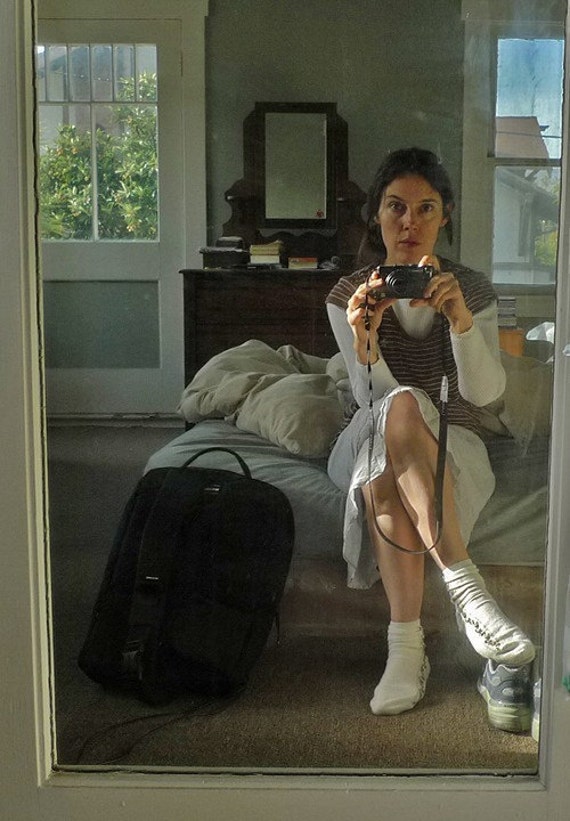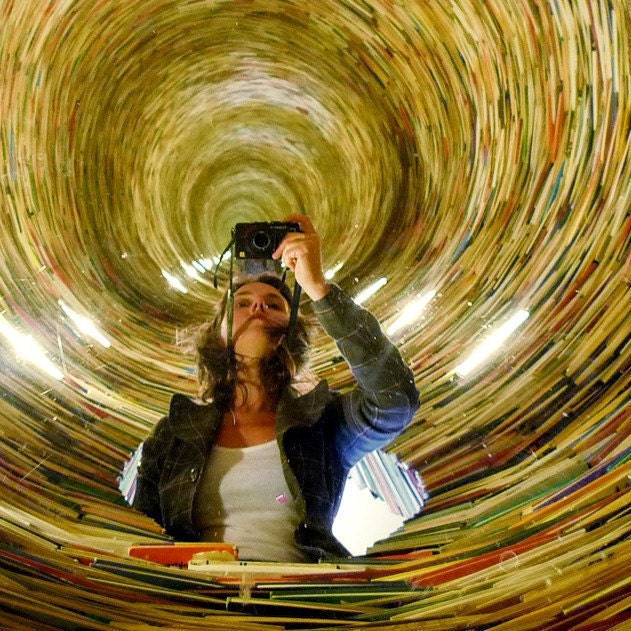 I searched self portraits on Etsy. I feel like this sometimes, too, like i am sticking my head in a huge swirling stack of color. Where IS this, I'd like to know. The first photo from
Taraville
caught my eye as a thumbnail. I went through my search results and just started opening tabs of the first pieces to speak to my eyeball. When I took a second look, I first noticed her sock is a little twisty, and the room she is in is so tidy (my room never isn't stuff-ish), her mattresses are on the floor-not a frame, the windows and trim are old and lovely. My next thought was, "Right? Why wouldn't she offer this photo, this self-portrait!? Is that really the camera she is using, or is she playing a trick on us? It made me smile. (I live with depression, and sometimes I do smile. Oooh. Freaky, huh?)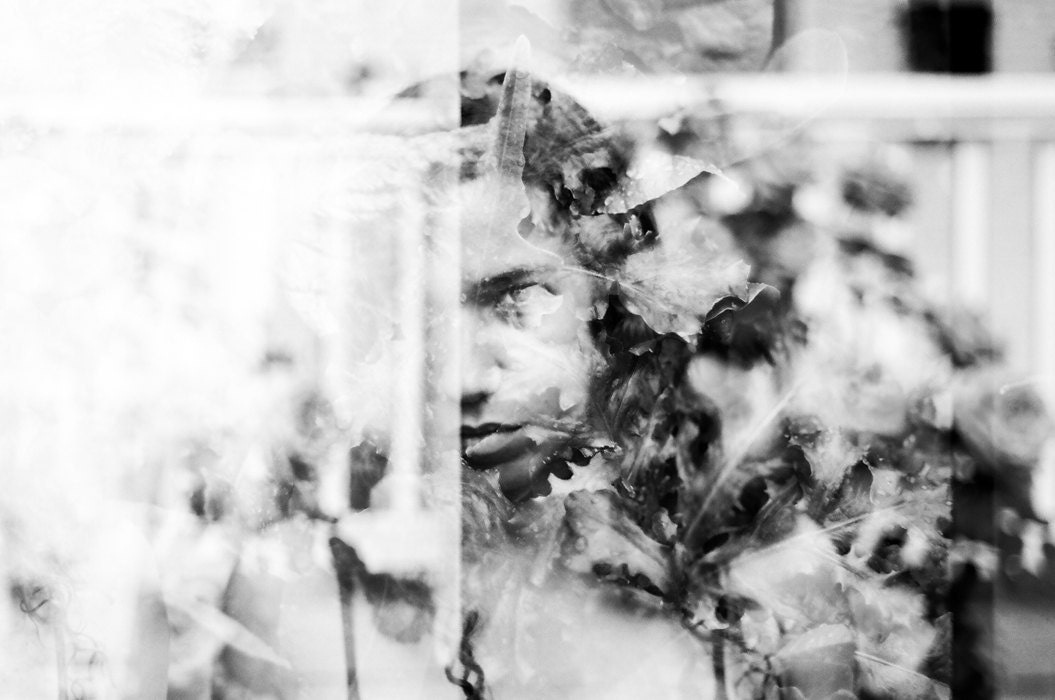 See what I mean about life's layers? BEAUTIFUL.
Last week I posted a list of things I wanted to accomplish. I could post the same list again, but I won't. What I'll do is know that the only lists that really work for me are shopping lists. It was difficult for me to put pressure on myself get something, anything really, done. What I do is, start and finish something when I start and then finish it. Deadlines are exactly that to me: not breathing. I wanted to write this post for two weeks, but there was some chaos inside about the daily life and what I should be doing, so the list squished up this post and made it unrecognizable to me. Which, consequently, totally de-activated my do-er. I hadn't even picked up my little camera attol (at all). I was fogging up my own lens.
Now, just sit back, relax, and watch me go, or not go, depending on which way the wind is blowing.
faces of me/my self portrait